8 Creative Ideas for Hanging Photographs on Walls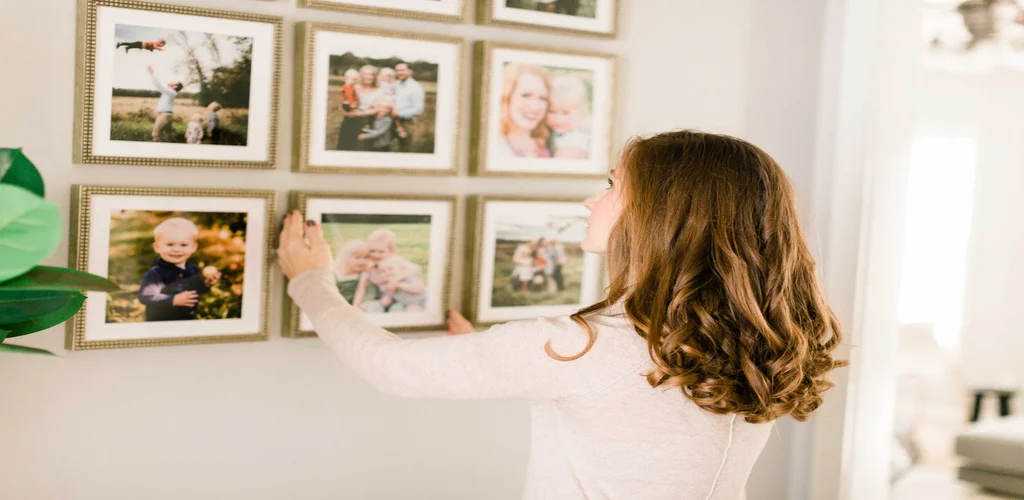 Hanging photographs on walls is a great way to personalize your home and showcase your favorite memories. However, it can be difficult to know how to hang them in a way that is both stylish and functional.
Photographs have been part of our lives forever. You might have hundreds of photographs with you in the forms of polaroids, albums, and in digital forms. The chances that you have only a few of them hanging around your home are very high. And don't you think that these pictures are meant to be spread around the house? 
Your beautiful memories need to be in front of your eyes all the time. And to keep them in front of your eyes you must hang them in every room of your house. But hanging photograph frames should be done in an aesthetic manner. Hanging photo frames without understanding the whole vibe of the room will only ruin the look of the room and the photographs. 
To hang photographs around the house you need to get HD-quality pictures like the one you get from RD Portraits. The next step is to find the most suitable ways to hang your pictures. Following are some ways you can hang photo frames around the house. 
Fairy Lights And Polaroids 
This has to be the most popular way of hanging photos among teenagers. This is the cheapest way of hanging photos around your house, especially in your room. 
This teenage popular way of hanging photos needs a few fairy lights or any string lights, clips, and polaroids or any type of photograph you want. Hang fairy lights in three to four rows and with the help of the clips start attaching photos to the light. Give appropriate space between photographs and switch on the fairy lights. 
Wooden Frame and String Hangings 
This one is another hanging idea with strings and clothes pins. This is a suitable way of hanging in a setting where the decor is in boho aesthetics. This type of hanging will go well in bedrooms or on the patio. 
For this way of hanging, you need to place an empty wooden frame on the wall. Hang the strings in multiple number rows depending on the size of your frame. By using clothes pins you can hang the photographs one by one with some distance between each of the pictures. 
Using Hangers 
Hangers are a very versatile piece of tool. You can use hangers for hanging plants and even photographs. Creating a wall with photographs using a hanger you need to buy small-sized pant hangers (any hanger with clips will do the work). Print out your pictures as per the size of the hangers. Clip your pictures on the hanger and hang the hanger on the wall using nails. This is a great way to recycle your old hangers and give your room a very aesthetically pleasing photograph wall. 
Using Wall Hangings 
Wall hangings that are made up of fabric and string are a great way to decorate your photo wall with less money. You can use any old wall hangings or buy a new one at very cheap rates. These wall hangings are good to use as they can gather a lot of pictures together. A small-sized wall hanging can carry almost 6-9 pictures altogether. 
Creating Frames Using Washi Tapes 
Washi tapes are a beautiful type of tape used for decoration purposes, especially for gift packing. You can use washi tapes to make borders on the photographs to paste bits on walls. 
For making washi borders, select a shape you want for your frame. The shape can be according to the shape of your photograph or you can outline a shape of your choice. Either way, put washi tapes on the borders of the photographs or directly on the wall. Make a border and place your photographs in the frame. 
You can make geometrical shapes on the wall as well and can place your photos in the spaces between. 
Using The Classy Picture Ledge 
Picture ledges are famous for displaying your photographs around the house, especially in the lounge and dining room. Photo ledges are typically a piece of wood used as a rack on the wall. Ledgers can be used in multiple numbers. You can use two ledges at a time depending on the size of the wall and other decorative items. A single-picture ledge over a couch is a classy way of using ledges. 
You can use a ledge to display framed photographs and place other decorative items along with it. Ledges go with both the classy and the contemporary style of interior. 
Create a Photograph Wall 
A photograph wall is a wall in any part of your house ( usually corridors, hallways, and staircases) dedicated to photo frames. But there are different ways of hanging frames on these walls. 
You can place frames in geometrical patterns, or in a freestyle way. There are shapes that you can follow for putting the frames. Usually rectangular and square shapes are used to put frames on the wall. The photograph wall is usually full of frames only and no other decorative items. 
You can also divide the wall into different types of shapes to make a mixed pattern around the wall. Mixing and matching shapes for the frames can be tricky. You can try it out and see what looks the best. 
Follow A Color Theme 
Even though it is hard to follow a theme with pictures as they contain multiple colors. But you can create a theme with the borders of the pictures and the color of the frame. This way it will be easy to choose and arrange the frames. The color theme can be chosen according to the theme of the interior of that p[sarticular room. 
You can use neutral colors like beige, white, and black to create a theme. 
Conclusion 
Photo frames can add a personal touch to the interior of your house. You can choose as many pictures as you want to display. The key is to select pictures that are unusual and are your fond memories. You should choose pictures with high quality and if you don't have high-quality pictures you can take help from RD Portraits.