Google's "Failed: Hostload Exceeded" Error in Search Console
If you've been keeping an eye on your website's performance in Google Search Console, you might have noticed a recent spike in the "failed: hostload exceeded" error. But fear not, because we're here to break down what's causing this issue, as explained by Google's very own John Mueller. In this article, we'll delve into the details, offering a comprehensive look at what's happening and how to navigate this situation.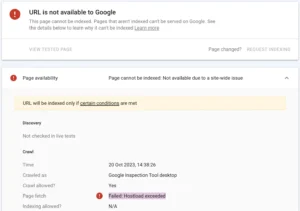 What's the Buzz About "Failed: Hostload Exceeded"?
Since late last week, website owners and SEO enthusiasts have been scratching their heads over a peculiar error message in Google Search Console. This cryptic message, "failed: hostload exceeded," left many in a state of confusion.
We've been looking more at this and the other similar reports in the forum, and I don't have a conclusive answer. It doesn't feel as definitive as it usually is with this error, sorry … I'll update here once we know more. cc @CrownRift @expomaster2 @ChrisRadny @CryptoShooting

— I am John (@JohnMu) October 20, 2023
Is Google oblivious to this issue? Not at all. John Mueller, one of Google's own, took the matter seriously and announced an investigation. But, as it turns out, this error is not a result of Google's internal problems. Instead, it seems to be caused by mischievous individuals trying to exploit the tool for their own gain.
Why Are We Seeing This Error?
John Mueller shed some light on this. It appears that the error is the consequence of spammers overloading the URL Inspection Tool. So, if you find yourself on the receiving end of this error, rest assured that it's not your fault – it's on Google's end.
People are spamming the Inspect URL / Submit to Indexing tool – normal indexing works fine.

— I am John (@JohnMu) October 22, 2023
What should you do if you encounter the "failed: hostload exceeded" error? Well, the good news is that you might not need to take any immediate action. Since Google's normal indexing process is unaffected, you can simply wait it out. Give it a few days, and you might find that the error vanishes on its own.
Also john said normal indexing is fine:
I wouldn't worry about it – normal crawling and indexing is generally fine.

— I am John (@JohnMu) October 22, 2023
Looking to the Community for Support
Not at all. The SEO community has been buzzing with discussions about this problem. You can find numerous complaints and reports of the "failed: hostload exceeded" error in the Google Webmaster Help Forums. It's clear that you're not alone in this situation.
Read Sarah and Momorizea conversion about "failed: hostload exceeded" error :

Here on another place Sugandha mentioned that "I was also faced this problem yesterday on my website. I googled for solution whole day and tried one by one recommended solution but all in vain. At last I connect my website with CDN with Cloudflare and after 5 hours, Everything is Ok. Try it bro."

How to Fix Failed: Hostload Exceeded Error
In the digital realm, encountering a "Failed: Hostload Exceeded" error can be a frustrating roadblock. This issue often arises due to your server's incapacity to fulfill Google's crawl requests. However, fear not,  we will equip you with the knowledge and solutions to detect and rectify this error, enabling you to signal to Google that your server is more than capable of accommodating additional requests.
1. Understanding How Google Estimates Your Server Capacity
Before delving into solutions, it's vital to comprehend how Google gauges your server's capabilities. The crawling process consumes a website's resources, and when these resources fall short, the site can become overwhelmed, leading to sluggish performance or even crashes. To prevent such scenarios, Google makes an estimate of your server capacity and keeps its crawl requests below this threshold.
It's important to note that Google's estimated server capacity isn't based on your actual server capacity, as this is beyond its purview. Instead, it relies on a variety of metrics. Depending on these metrics, Google may decide to increase or decrease the rate at which it crawls your site.
2. Resolving the "Failed: Hostload Exceeded" Error
Now, let's explore the steps to rectify the "Page Fetch Error Failed: Hostload Exceeded" and improve the metrics that Google uses to estimate your server capacity.
2.1 Allow Google to Set Your Crawl Rate Limit
Before making metric improvements, ensure that you haven't instructed Google to reduce its crawling rate on your site. To verify this:
Step 1: Navigate to the Search Console Site Settings.
Step 2: Confirm that the "Let Google optimize for my site" option is selected. If it's not, select it and click "Save."

2.2 Rectify Server Errors
To identify and address errors on your server, follow these steps:
Step 1: Go to the Search Console.
Step 2: In the left sidebar, scroll down and click "Settings."
Step 3: Head to the "Crawl Stats" option and click "Open Report."


In the "Crawl Stats Report" page, click on the expander arrow next to the "Host Status" option.

Then, click the expander arrow connected to the "Server Connectivity" option.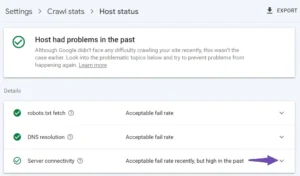 Here, you'll receive an overview of how your server has responded to Google's crawl requests over the last 90 days.

If you find a significant number of failed requests, it's advisable to contact your hosting provider for support.
Note: Server errors can be temporary, so even if you don't encounter any during a live test, Google might have experienced them when it visited your site. If the Crawl Stats Report indicates an abnormal number of server errors, contact your host for a solution.
2.3 Reduce Your Page Load
You can alleviate the page load on your server by using a performance plugin. If you already have one installed, ensure that minify and caching settings are enabled. If you don't have a performance plugin, consider installing WP Rocket or W3 Total Cache.
2.4 Improve Your Page Speed
A swift website is indicative of a robust server. If your site's speed is lacking, it might be time to evaluate your web host and consider an upgrade to a more robust server. Reliable hosting services like One.com or Dogado can help enhance your site's speed and performance.
To assess your current page speed:
Step 1: Navigate to PageSpeed Insights.
Step 2: Paste your URL into the provided textbox and click "Analyze."


You'll receive data about your page speed, and you can click on "Expand View" to gain deeper insights into your page speed.
Scroll down to the "Opportunities" section to discover suggestions for enhancing your page speed.
By following these steps, you should see the "Page Fetch Failed: Hostload Exceeded" error vanish. If the issue persists, it might be time to consider upgrading to a higher hosting package or changing your hosting provider.