Famous Tourist Places in Mussoorie, and also Nearby Places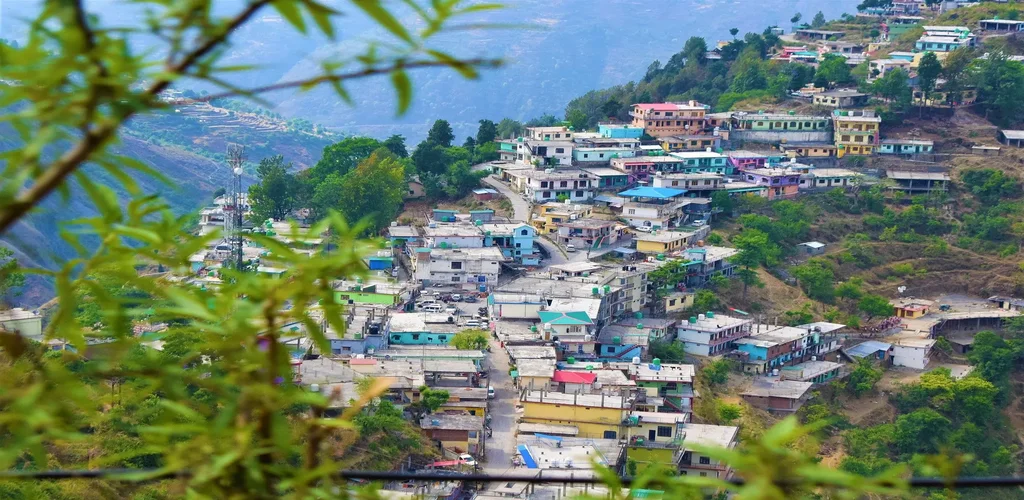 Mussoorie is a popular hill station located in the Tehri district of Uttarakhand, also known as the Queen of Hills. Located at a distance of about 35 km from Dehradun, Mussoorie is one of those places that people frequent. It is a beautiful city situated at an altitude of 7000 feet above sea level. It is the rainy season at any time here. The Ganges is visible from one side of Mussoorie and the Yamuna river from the other side. Although the weather remains pleasant throughout the year, those who come between April to June and September to November get even better weather.
Mussoorie is also known as the gateway to Yamunotri and Gangotri religious centers. Flora and fauna found in Dehradun add to its charm even more. It is a popular summer tourist destination for people from far and wide.
Mussoorie is one of the most favorite places for tourists. Everyone is thrilled to see the narrow winding roads, snow-capped white mountains, high heels, green trees visible in the distance. Therefore Mussoorie remains a center of attraction for the people. If you want to take in the beautiful views of the lush green slopes and snow-capped peaks of the Himalayas, your best bet is to drive to Mussoorie.
Famous Tourist Places in Mussoorie
Mall Road: Mall Road is the best place to visit and shop in Mussoorie. Most of the famous stores are all located here.
Kempty Falls

: Kampti Falls is the highest and biggest waterfall on Yamunotri road, 15 km from Mussoorie, surrounded by high mountains on all sides. Tourists coming to Mussoorie come to see this waterfall.

Gun Hill

: Tourists coming to Mall Road go to see Gun Hill. Many high peaks of the Himalayan mountain range can be seen from Gun Hill. It can also be reached on foot, and there is also a ropeway facility. The thrill that is in its walk is unforgettable; enjoy it.

Municipal Garden

: The Municipal Garden is also worth visiting. A small artificial lake has been constructed here. Garden decorated with different types of flowers remains the center of attraction of the people.

Tibetan Temple

: This temple tells about the Buddhist civilization, definitely fascinates the tourists. There are some drums on the backside of the temple, which are believed to fulfill the wishes by rotating it.

Childer's Lodge

is the highest peak in Mussoorie near Lal Tibba, accessible on horseback or foot. It is fascinating to see the snow scene from here.

Bhatta Falls

: Bhatta Falls is located on Mussoorie Dehradun Road at 7 km from Mussoorie. It is an excellent place for bathing and picnicking.

Nag Devta Temple

: This ancient temple situated on Cart Mackenzie Road is about 6 km away from Mussoorie. Vehicles can go right up to the temple. From here, there is a beautiful view of Mussoorie as well as Doon-valley.

Sir George Everest House

:- At a distance of 6 km from Mussoorie is the Park Estate of Sir George Everest, the first Surveyor General of India; his residence and office were here, and it can be reached by road. Mount Everest, the world's highest peak, is named after him.

Jwalaji Temple (Benog Hill):

Jwalaji Temple is situated 9 km west of Mussoorie. It is built on the top of Benog Hill, where Goddess Durga is worshipped. The temple is surrounded by dense forest, from where one can have beautiful views of the Himalayan peaks, Doon valley, and Yamuna valley.

Gandhi Chowk

: Gandhi Chowk Market is very popular for its roadside shops. Here you can also buy Chinese bouquets along with local artifacts, products.
Places near Mussoorie
Dhanaulti


Dhanaulti is situated on the Mussoorie-Tehri road, about 25 km from Mussoorie. En route, a splendid view of the Himalayas can be seen from Burankhanda amid pine and deodar forests. Dhanaulti is an ideal place to relax for the weekend. Tourist bungalows are available here.

Surkhanda Devi


This place is located on Mussoorie-Tehri road, about 33 km away from Mussoorie and 8 km from Dhanaulti. Tourists can reach Kaddu Khal (Dewas-Thali) by bus or car, from where it can be reached by walking further 2 km. This temple is situated at an altitude of 10,000 feet above sea level, with a beautiful view of the Himalayas. No one can forget the experience of traveling here.

Chamba (Tehri)


It is about 31 km from Dhanaulti. The journey till here is very spectacular as the road passes through fruit orchards. During the season, apples are found in abundance along the route. The spectacular Himalayas are visible in the background.

Lakha Mandal


Lakha Mandal is 75 km away on Mussoorie-Yamunotri Road after passing Kampti Falls. After a road journey of 71 km till Kuva, the river Yamuna has to be crossed by a road bridge. Hundreds of sculptures of archaeological importance have been kept here by the Archaeological Survey of India. It is said that the Kauravas had built a palace of lac here and conspired to burn the Pandavas alive here.
Also Read-