INSTANT ELECTRIC GEYSER – All You Need To Know!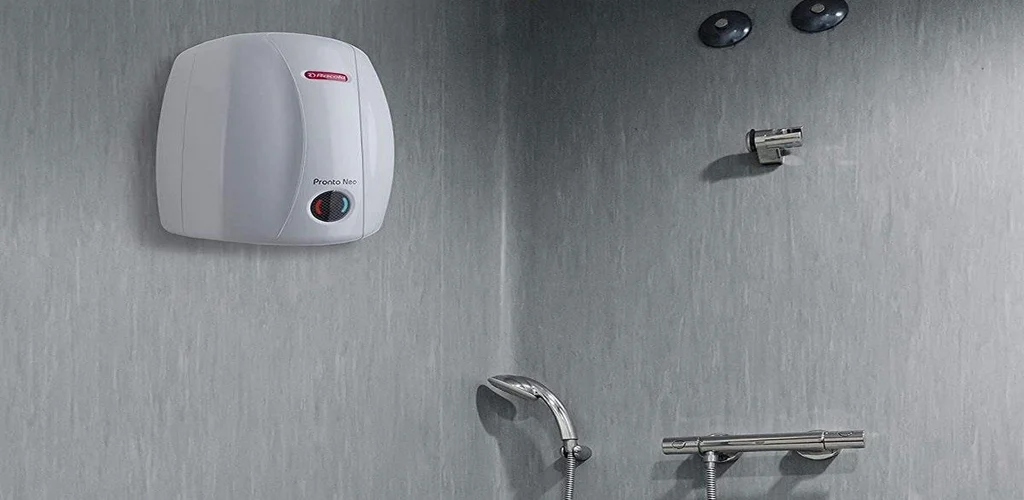 Choosing between an Instant electric Geyser and Storage Geyser is a difficult question. There are several parameters to consider regarding hot water purpose, geyser cost, hot water cost, and bathroom availability. We provide all the details in this comprehensive guide. 
An instant electric geyser is a perfect solution as there is no storage tank or water tank, so there is no option to heat additional water or dispose of hot water. Additionally, you should turn it on before use and easily turn it off after use. Despite the very high wattage, the power supply utilization is low. That sounds great from an individual's point of view, but it might not be good for Grid.
Pros of Electric Instant Water Geysers
Instant Electric Geysers have many advantages. From reduced running costs and increased efficiency to longer life and space savings, find out why an instant electric geyser or water heater is a perfect choice. Instant Electric Geyser price for a 6 Liter is around Rs. 6,000-8,000. The price for a 10-liter storage geyser is about 6,000 to 8,000. 
However, instant geysers consume less power because we can use hot water immediately. How much money and energy I will accumulate is first thought in an electric water geyser. It costs a lot. However, operating costs increases by its initial costs. With an electric water heater, you don't have to waste energy heating water you don't use.
Cons of Instant Electric Geyser
The speed at which an instant water geyser draws electrical current at any given time is very high, as the water must be provided at what is the required high temperature. Therefore, store water geysers rates at 2 kW, while instant geysers rates at 3-4.5 kW. The Instant Water Geyser heats the water instantly, thus taking more pressure off the grid.
With the Instant electric geyser, there's no reason to run out of hot water whenever you need it. Modern small tanks also heat up extra supplies very quickly. A full-fledged instant storage water heater that stores 10-35 liters of hot water at a time is enough for your washing, showering, and other hot water needs for a while.
The Instant electric geyser has a flow restrictor that allows a continuous supply of several liters of hot water at a time. Therefore, it is necessary to take a break while bathing. The geyser releases up to 6 liters of water, and you'll have to wait for more while bathing.
Instant Electric Geyser Size and Power Consumption
The power consumption of geysers is highly dependent on hot water consumption. That's why it's so important to buy the right size geyser. The less hot water you use in your home, the less electricity you use. Therefore, choosing the right size instant electric geyser or water heater for your needs is very important. The smaller the geyser, the better. Also, it is better to turn on the water flower before using it and turn it off immediately after using it.
For all purposes, it is always advisable to reduce the amount of water you use and conserve it. About 25 to 30 liters of water is enough for bathing in a bathtub or shower, while about 15 liters is enough for bathing in a bucket.
Can I use an instant electric geyser in the bathroom? 
However, as a rule, 6, 10 or 15 liters of stored water geysers are sufficient for such applications. A 15-liter water heater may suffice in cold or frigid winters, while a 10-liter or 6-liter water heater may suffice in areas where the room temperature is not too cold.
 How to Calculate the Size of a Geyser?
Furthermore, if the water tank in the kitchen consumes less water, a 6 or 10-liter water tank will suffice. Optimal water heating to save electricity should always be your goal. Small instant water heaters also consume less energy and provide a perfect hot water supply.
There are also a few models of 6 or 10-liter instant storage water heaters rated at 3 kW instead of 2 kW. From an energy system perspective, these are also not recommendable.
The lifespan of Geysers
The lifespan of the instant electric geyser is sufficient to last longer than that of typical rechargeable instant water heaters. This is because such water heaters have a small water tank. If you plan to live in the house for a while, it's a great alternative that you can save. 
An instant electric geyser or Water Heater is a Space Saver with the potential to space saving. It is one of the great benefits of instant water heaters, even if you're not concerned with saving energy and money. Traditional geysers of 10 to 40 liters of water are usually tall and wide. This large metal tank can take up valuable space. In contrast, the Instant electric geyser is the size of a giant computer and takes up very little wall space.
You Would also Like: Where To Track down The Best Electrician Scarborough?