What Makes Makita Angle Grinders The Best? Let's Find Out!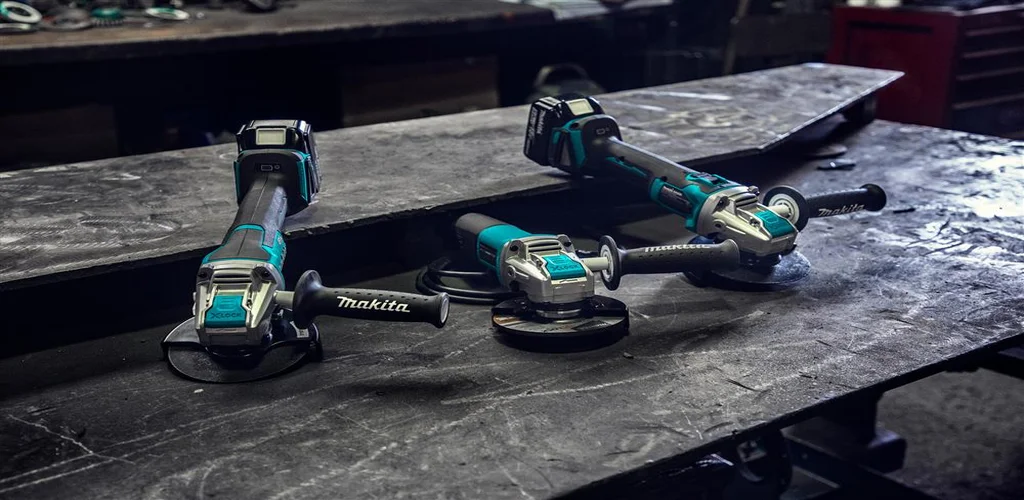 It is likely you have heard the term angle grinder, and if yes, you would also know that they typically serve three basic functions, including cutting, grinding, and polishing. These gadgets have gained immense popularity over the years thanks to their versatile benefits.
Makita is a Japanese multinational corporation known to produce power tools for the construction, woodworking, and metalworking industries. The renowned company is also acclaimed for making quality angle grinders. And as stated before, like other grinders, these are used to cut, grind, and polish different materials.
And if you are scouting for these gadgets, it makes sense to invest in Makita angle grinders for the ultimate experience.
Perks Of Grinders
The following perks offered by these grinders will further convince you to buy them:
One of the reasons for increased sales of Makita angle grinders is that they are equipped with powerful motors ranging from 6 amps to 15 amps, which fundamentally depends on the model you choose. In other words, the higher the amp rating, the more powerful the motor is. As a result, these grinders can handle tough jobs with ease, such as cutting metal, concrete, and masonry effortlessly. Additionally, the motors of these grinders are purposefully designed with the intent of providing consistent power output throughout their operation. This sets the deal that the grinder will work seamlessly even when it is under load.
The special design of these grinders is something to talk about and indeed deserves appreciation. It is done purposefully by keeping ergonomics in mind, which allows them to be used for extended periods of time. Digging a bit deeper, the handles are contoured and rubberized (prepared with special rubber) to ensure that the handler enjoys a comfortable grip throughout the operation. What's more, the tool's slim design also makes sure that it is easy to maneuver in tight spaces.
Irrespective of the product you invest in, the expectation will always be that it lasts a good time. This is something you look forward to from angle grinders as well: that they work flawlessly for years to come.
Your anticipation gets fulfilled when you plow your money into Makita angle grinders, as they are formulated with materials built to last, and their construction reflects this. Shedding additional light, the tool's housing is prepared with high-quality materials in the shape of aluminium, magnesium, and steel, which furnish enough durability and longevity. Plus, they are designed in a way to withstand extremely harsh conditions, such as dust, debris, and moisture, which can have a drastic impact on lesser-quality tools.
Another highlight of Makita angle grinders is the safety feature they offer. They are designed specifically to ensure that any user handling them doesn't get hurt at any point. For instance, the tool's wheel guard shields the user from flying debris and sparks. Similarly, the presence of a lock-on switch prevents accidental startup.
This feature further adds charm to Makita angle grinders, and there are some models up for grabs equipped with a kickback brake. It helps to stop the tool's rotation in case a jam takes place.
Makita angle grinders also offer a special attribute in the form of variable speed control, which empowers the user to adjust the tool's speed as per the application. This feature is extremely beneficial when working on delicate materials that essentially require slower speeds. In the same way, this feature works wonders when it comes to handling harder materials that need a faster speed. The variable speed control also aids in dwindling user fatigue considerably by paving the way for the user to work at a comfortable pace.
Makita angle grinders are also hailed as one of the most versatile tools that can perform several tasks. They can cut through metal, concrete, and masonry; grind down surfaces; polish metals; and also aid in getting rid of rust and paint easily. Furthermore, these grinders can also work pretty well with a variety of other attachments, like sanding discs, wire brushes, and polishing pads, which further boosts their versatility.
Makita angle grinders are also up for grabs in cordless options, which aim to furnish greater flexibility and mobility on the job site. To understand the deeper deets, cordless models are backed up by lithium-ion batteries, which furnish long run times and fast charging times. And as far as noise is concerned, you won't have to endure such problems when working with cordless models. They are silent and thus preferred for indoor use.
Note: For procuring Makita angle grinders, you can simply connect with our reliable brand. And not only that, we are also the largest refrigerant gas suppliers in the UAE. Simply visit our website to have a glance at the range of products we offer.
Makita angle grinders also come with an eclectic range of accessories and parts, making it easy to find replacement parts when you need them. Grinding wheels, cutting wheels, sanding discs, wire brushes, and so on are some of the common accessories that you get along. Makita also offers its large base of users a range of other dust extraction accessories that can be attached to the tool to curb dust and debris on the job site.
If you are worried about the size of these grinders, this is likely to bring a smile to your face. The compact size of Makita angle grinders ensures that the user won't have to endure any sort of problem handling them. It is one of the significant reasons why these grinders are preferred over their other traditional counterparts.
The small size makes angle grinders easy to use, even for beginners. The availability of user-friendly and simple controls makes them accessible tools for anyone who is thinking of using them.
Another top-selling feature offered by Makita angle grinders is being lightweight. That means it is easy to use them for extended periods of time. What's more, this feature also makes sure that they can be transported from one job site to the other without enduring any hassles.
If you aim at accomplishing several tasks in a shorter period of time, you can simply rely on the power of Makita angle grinders. They are designed to work swiftly and efficiently. As a result, the work can be accomplished in a fraction of the time it would take to complete the same work manually. This makes them a valuable asset for professionals who are involved in the tasks of cutting and grinding.
Makita angle grinders require minimum maintenance, making them a cost-effective option. Rest assured, you won't have to strain your pocket every now and then on frequent overhauls. Moreover, any model you think of procuring will essentially come up with a warranty.
Get connected with Supply Van
For all your angle grinder needs, the label Supply Van will indeed turn out to be the safest bet for you. Not only this; we also deal with a range of other products. Visit our website to inquire about welding machine prices, platform ladders, pallet trucks, step ladders, electrical switches, batteries, and so on.